A pair of ladies' fashion gloves rest at the bottom of a dresser drawer. I see them at least twice a year when I rotate cold-weather and warm-weather clothes.
The gloves are old and worn, a testament to age. They're also soft to the touch and golden brown, like a newborn fawn. A sporty topstitch runs halfway down the back of the glove and around the top with the scalloped edge.
They belonged to my grandmother.
A cousin said she had found a stash of Grandma's gloves and asked if I would like a pair. When the package arrived, I peeked inside and pulled the gloves out of the plastic sleeve in which they originally came from the department store. They looked as though they had been carefully put away. For next time.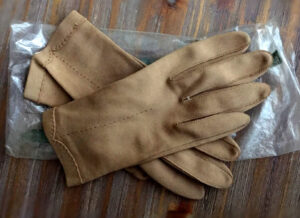 They're small, but my grandma was small. Small but sturdy—it runs in the family. At least among the females. The men are big and broad and the women are . . . well, let's just say long, lean and leggy was not in our DNA.
She was a woman who needed sturdy hands and arms for kneading bread dough, butchering chickens and scrubbing wood floors. Delicacy wasn't all that useful on a farm, not for tending nine children, firing up a wood cookstove or feeding a hungry threshing crew of 20 dirty men fresh from the field, gathered around long makeshift tables outdoors under the locust trees.
The hands that slid into those gloves had tended the sick, weeded gardens and washed countless dirty dishes in soapy water.
There was a time when ladies of every social and economic class wore gloves when they went out.  Gloves were part of the dress code of the day. They're everywhere in our old black and white photos—gloves along with hats and pocketbooks, boxy purses with fierce clasps that would pinch any child's fingers should they be messing where they didn't belong.
These gloves put a lovely cover on the hands that fed hobos who rode the rails, wandered through the countryside during the Depression, and occasionally appeared at her kitchen door. They were the same hands that bid farewell to two sons going off to war and held the flag presented in honor of the one who didn't make it home.
She was small but mighty. The story goes that she chased away a young man whom she considered an unsuitable suitor for one of her daughters with nothing but her bare hands and a broom. He later became a son-in-law.
I remember being a small girl and seeing those hands grip the steering wheel of an automobile so huge she could barely see over the dashboard.
And could those hands fly on a piano. They raced up and down the keys faster than the speed of sight. She could play any song she heard, from hymns to polkas to ragtime. Name your key.
She had music in her. And love and grit.
The gloves aren't worth much in and of themselves, but they're a lovely touch of the past.