There is a good chance you've not been to Marion, Ind. It is north of Indianapolis, past Elwood, but not all the way to Etna. Like the rest of our state, it is what people on the coasts call flyover country—towns and cities bordered by corn and wheat fields that look like checkerboards from an altitude of 36,000 feet.
There is a gem nestled in Marion. It is the Marion National Cemetery. Spanning 52 acres of rolling hills and towering shade trees, it was designated as a Soldiers Home in 1888 to care for vets in the region. Two years later the first funeral took place. Before that, this cemetery
was a farm. In an old photograph of a funeral long ago, a horse-drawn hearse is parked in front of a stable and a barn. The enormous red-brick stable with white-paned windows still stands.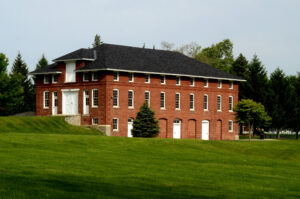 It is quiet here this morning, all but for the hum of riding mowers and weed eaters preparing for Memorial Day. The dew is thick and grass clippings cover your shoes.
Yesterday they laid a female World War II veteran to rest. Patricia Brinkman is now beside her husband, Franklin D. Brinkman, Sr. A floral spray of pink carnations and lilies lies atop her fresh grave.
Three  Medal of Honor recipients are buried here, as is Thomas Jefferson. No, not that Thomas Jefferson, but a Thomas Jefferson. He is in section 1, grave 1, buried in the late 1800s.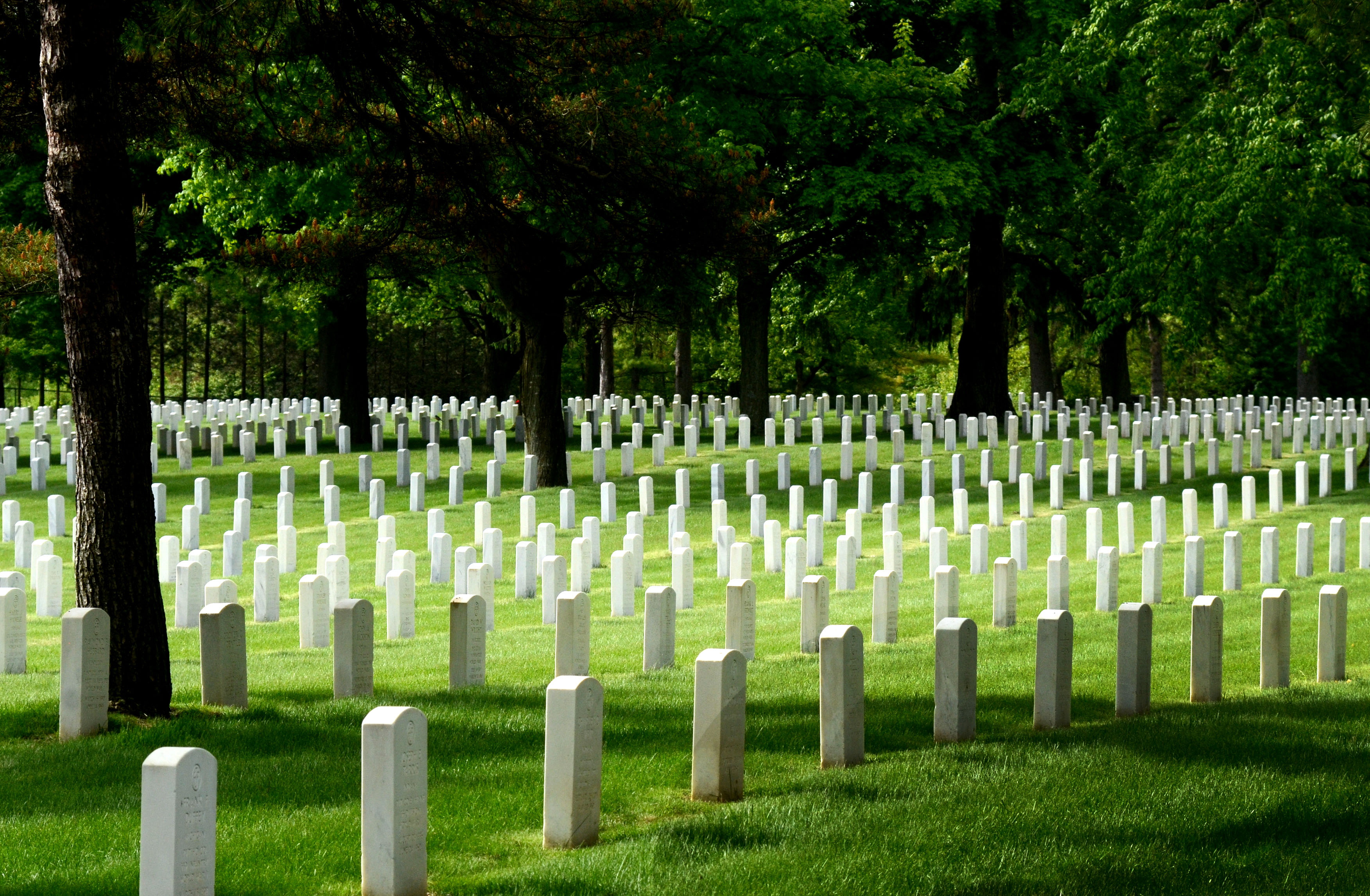 Grave markers date back to the Civil War, Spanish American War, World War I, World War II and Korea. There are a few from the Gulf and they're getting more Vietnam vets in all the time.
Sue Nan Jehlen is the director here. She is a hairdresser turned school psychologist turned Veteran's administrator who loves her job. She is preparing for an Unaccompanied Vet Ceremony later today. They'll be honoring 23 veterans who were buried unaccompanied by family or loved ones, and without military honors. The vet community in the area finds that unacceptable, so vets from Tipton, Kokomo and Indianapolis are meeting up at a nearby Meijer store and will come together to honor those who served. There will be a ceremony with the Posting of Colors, the Pledge of Allegiance, speakers, a high school choir, placing of wreaths, a 44-rifle salute, taps and a benediction.
Those who rest here are tended well.
Before Veteran's Day last year, community members placed solar lights by nearly 4,000 grave markers to illuminate headstones at night. This year they are aiming for 10,000 lights.
While this cemetery is no Gettysburg or Arlington in scale, it honors the same measure of service and sacrifice. This, too, is hallowed ground.
As Lincoln said in his Gettysburg Address, may we "highly resolve that these dead shall not have died in vain — that this nation, under God, shall have a new birth of freedom — and that government of the people, by the people, for the people, shall not perish from the earth."