We are having lunch with several of the grands, eating on plastic placemats that feature the United States presidents on one side and the three branches of government on the other. They are old placemats, as the last president shown is Clinton—and it is Bill, not Hillary.
"Who is that one by Roosevelt?" one of the girls asks.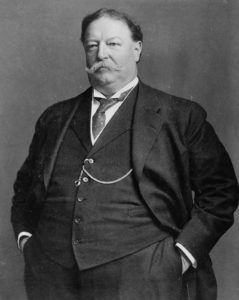 "That is Taft. He was the heaviest President in history." History with Grandma is fun because, one, Grandma is old enough she might actually have been there and, secondly, even if Grandma wasn't there, she tells the story like she was. "The man weighed more than 300 pounds," I say, as though I was there for the weigh-in.
Clearly they are disturbed by the news. Attempting to ease their anxiety, I say "He probably should have eaten more vegetables."
"I'd like to know more about Taft," one says wryly, insinuating that my claim about Taft's bulk warrants verification.
"There is a story that he was so big he got stuck in the bathtub."
"Grandma!" they shout in unison, as though I am telling such a whopper that lightning may strike.
"It's true," I say.
"I'd like to see the tub," states the skeptic who will one day be a prosecuting attorney.
We look it up on the Internet and see that it was a tub specially built to hold four men and, in fact, four fully-clothed men are pictured sitting in the tub.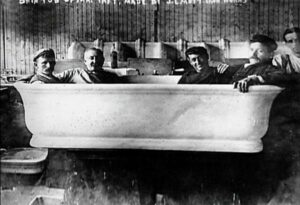 They are quiet, mulling over the dilemma. How could one man get stuck in a tub, when they have seen as many as four of their little cousins fit in the tub at a time?
"Did they have phones?" says the one, who at age 5 is the unofficial event planner in the group.
"Honey, not even a smart phone could have helped the man get out."
"Why didn't he just hold onto the bathtub and jump?"
"He was wedged," I said. "The story is that they tried using butter — "
"That wouldn't work," interrupts the event planner. "Curious George got his leg stuck in a trash can and at first the Man in Yellow used butter but it didn't work, so they had to call the fire people. They had to use a saw to cut George out. Maybe they sawed the bathtub, spread it and then he got out."
"Maybe," I say.
"Or, or, or!" Her brain is at full-throttle and in problem-solving mode. "He must have filled the bathtub more because when you fill it with water—fill it up super high—he could go higher and take a breath and then pull up."
The prosecuting attorney remains skeptical and unconvinced. She jumps off her chair and exits the kitchen saying, "I just wanted to know how he got out."
The event planner, satisfied that either a fire department arrived and used Jaws of Life or that Taft dislodged himself relying on the mechanics of displacement, gazes at the placemat then ruefully says, "My favorite president was Washington, but now it's this one – Tadd."