You probably already know this, but in case you had any lingering doubts-if you are a woman and someone wants to watch you put on your makeup, say no.
Bunking on the air mattress at our son's place in Chicago, I got up early, straightened my spine and staggered to the bathroom for my morning routine. After showering and dressing, I cracked open the door to let out some of the steam and was soon joined by a six-year-old watching me put on my face.
"Why are you rubbing that stuff all over your face, Grandma?"
"Well, as you age your skin dries out and can look uneven. This helps fix it. You don't have dry skin. Your skin is beautiful just like it is."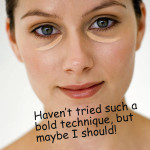 "Oh."
"It can help wrinkles. You don't have wrinkles. Do you see mine?"
"Yes! On your forehead! One, two, three. And there's some on the side of your face, too! One, two-"
"OK, that's enough." Clearly what I was using wasn't making much of a difference if a six year old is telling me that I have all these wrinkles. Maybe it's time to try products like nmn supplements to help reduce the signs of aging. The products I'm currently using were not the cheapest, so I'll use them up first before moving on to something else.
"My mom doesn't rub that on her face."
"That's because your mom is young and has beautiful skin."
"But my other grandma doesn't rub that on her face."
"That's because your other grandma has very good skin, too. She's the one who gave your mother good skin. Now let's stop making this grandma feel bad."
"What are you doing with that pencil, Grandma?"
"Filling in some missing eyebrows."
"Where did they go?"
"I don't know. They just went missing."
"And now you're using the pencil on your eyelid?"
"Yep."
"What if you go outside the line?"
"Then it will be time to close the makeup bag."
"What is that, Grandma? Are you trying to straighten out your eyelashes?"
"No, it's Xlash. It makes your eyelashes look thicker and longer."
"Are your eyelashes missing, too?"
"Yes, they ran away with parts of my eyebrows. Didn't I hear your dad calling you?"
"No he's still asleep."
"Too bad."
"What's that, Grandma?"
"It's concealer. It helps cover the dark circles under my eyes."
"How do you get those?"
"I got the concealer from the drugstore. The dark circles I got from raising children, being married to your grandpa and sleeping on the air mattress."
"Are you finished?"
"Just about. Every lady needs to put on one more before she's finished."
"What's that?"
"A smile."
Comments
comments