A young pregnant woman, about to give birth, is refused suitable lodging. We are aghast. We are appalled at the dearth of human kindness.
That is the story we hear each Christmas about Mary and Joseph turned away because there "was no room for them in the inn."
We wonder why wouldn't somebody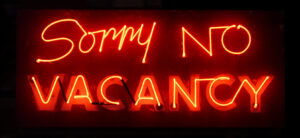 make room? Why wouldn't somebody invite them in to sleep on their floor? We are incensed at the coldness; yet we are those somebodies.
Pollster George Barna once said when most people hear statistics, poll results, or information on behavior patterns, they usually apply the findings to others, not themselves.
We hear a report on the declining civility in American culture, and we think of someone else who has been rude or abrupt or who has behaved like a cad. We tend to give ourselves a pass.
We hear about a woman nine months pregnant forced to give birth in a shelter for animals and we think how self-absorbed those people were. Rarely do we consider that they were probably people just like us.
We could have been those somebodies all those years ago—too busy, too crowded, and too preoccupied. We could be those somebodies even now.
The inn has never been more crowded than it is today. Best wishes prying open the door. The inn is packed with over-scheduled people frantically coming and going, scrambling to host or attend parties, creating playlists, cooking, baking, shopping, wrapping and decorating. So much to do and so little time.
Why, no, we'd never shut out the holy family. We'd never be so preoccupied as to miss the true meaning of Christmas, the birth of Christ. Or would I? Do I?
Truthfully, much of what we do, the many activities and self-imposed requirements for celebrating Christmas, have little to do with the genuine meaning of the holiday. On the one hand, they're fun and a delight to the senses and create marvelous memories. On the other hand, we grow nearly frantic with each additional activity, raising the water level a little more and a little more until we are struggling to stay afloat.
We recently watched a program about Christmas traditions in Europe. The narrator said the celebrations there are usually understated but elegant. We Americans have never done understated well.
We excel at doing things big. Even Christmas. Especially Christmas.
But perhaps the best way to celebrate Christmas is not to pack the inn quite so full. Leave room for the unexpected, for extending spontaneous hospitality and for a sudden change in plans.
Be the sort of somebody willing to make room. Keep the door open a crack. And in the spirit of advent, keep watch. Wait and watch—in the small snippets of quiet, in the still of the night, the early rays of sunrise, or the twilight of late afternoon—stay alert and you will witness the joy and beauty and mystery of heaven reaching down to earth.
Comments
comments