You can still catch Lawrence Welk on Saturday nights. Of course, that's assuming you want to. He's on PBS, still leading ladies across the dance floor, tapping the baton with "ah one, ah two, ah three," and cuing the bubble machine.
My three great aunts, who lived together in a two-story white clapboard house in Lincoln, Nebraska, used to watch "The Lawrence Welk" program religiously. It was like attending the United Church of Lawrence Welk—services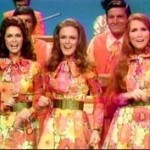 every Saturday night at 7. The room was hushed, viewers sat quietly and watched with reverence.
Despite regular attendance, I lost interest in Lawrence Welk and we went our separate ways, although I doubt Mr. Welk noticed. Maverick that I was, I found myself more drawn to Ed Sullivan who hosted acrobats spinning plates and a curious rock band from England.
Some years later, after I had married and had become a mother, I heard a familiar "ah one, ah two, ah three" drifting into the kitchen one Saturday night.
Our preschool children were plastered to the television, transfixed by Lawrence Welk and his color-coordinated orchestra. They were mesmerized by the hairdos, hats and costumes, the sets, the singing and the dancing. At least the girls were. Our son wasn't that interested; he probably had something to dismantle somewhere.
"Back up from the television before those bubbles burst in your face, girls!" They did back up, all the way to the toy chest. They reappeared wearing play high heels, faux fur stoles and dress up clothes. They imitated the dancers on screen. They danced with each other. And they danced with their dad, that night and many Saturday nights to follow.
Eventually they, too, grew older and their tastes change. They lost interest and the Saturday night dances faded into memory.
We hadn't heard from Lawrence for some time. Then a couple of weeks ago when three of the grands were with us for the weekend, one of the five-year-olds asked if Lawrence Welk would be on.
"Of course," we chimed, as though he was part of our weekend routine.
They stared with big eyes at puffy hair styles, bright costumes and a beautiful brunette singing out her heart in Spanish. They danced with each other and danced with Grandpa. The numbers that seemed dated to us were fresh to them. The warmth and affection of the performers appealed to the girls as much as the gowns and the gloves.
And then a baritone crooner sang, "Somebody Stole My Gal."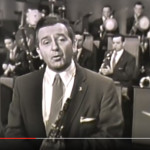 "What's a gal?" a small voice asked.
"It's like a girlfriend."
"Somebody stole his girlfriend?" another asked with concern.
"It sounds like it."
The three of them stood wide eyed in disbelief. There was palpable concern; it was an unanticipated ripple.
The next number began and the camera zoomed in on a woman playing trumpet.
"Is that a gal?" the 3-year-old asked
"Yep."
"Maybe she's the one he's looking for!"
Problem solved. Cue the bubble machine. Adios, au revoir, auf weidersehn.