Sitting on the patio of an aging stucco home, shadows on the lawn begin moving as the wind threads through the trees. A leaf floats to the ground, alluding to the coming of fall. This wide patio, or porch as they often call it, was built as the centerpiece of the home. The rest of the house wraps around it on both sides, like huge stucco arms extending a hug.
The chairs have been here for some time. So have the potted geraniums in wrought iron stands. Only the people are recent arrivals. They are snacking on cheese, fruit and fresh veggies, enjoying conversations and sharing stories.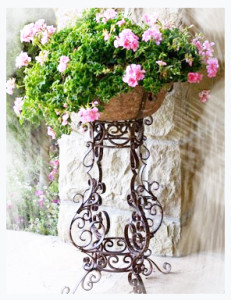 Countless stories have been shared on this porch. Perhaps a few of them even true. Others were no doubt embellished to the delight of listeners. This is a family that puts a premium on reading, books, poetry, the classics and the Scriptures.
Screen doors on either side of the porch lead into the house. The doors are wider than today's standard doors. They are made of drying wood, heavy screen and scrolled metal work. They were crafted long ago with an eye to durability, detail and beauty. The family that has grown here was crafted the same way, with an eye to durability, detail and beauty.
They enjoyed everyday pleasures—singing in the car, laughter at mealtime and football games on Sundays. Even the girls. The youngest, now on the verge of being an empty nester, is inside taunting some of the fellows about past games. Bursts of laughter fill the air.
When the father hit 55, his wife insisted he quit playing Sunday afternoon football with the kids. The mother never played. She was stricken with polio after the birth of their second child and before their next three. Never able to walk again, she often managed by dragging herself across the floor. She never complained. He never complained either, not about the challenges of polio, not about growing up poor, not about being a Marine on Guadalcanal, not even about being shot and bringing home a recurring strain of malaria. They were cut from a cloth that faces life head-on, all the while acknowledging the goodness of God in both joy and sorrow.
There is something familiar upon entering the house. It is the scent of time passing—stacks of old books, piles of magazines, sheet music on the piano, figurines on a shelf in a window.
The homeowner is gone today. He went to be with his Maker.
And yet, both he and his wife linger like ripples in a pond. Their lives are still evident, woven into the laughter and hearts of family and friends. They weren't rock stars or celebrities and they won't be remembered in history books. Yet they made a history of their own, creating simple beauty in the everyday and living faith amid the challenges of life.
That is the best remembrance of all.
Comments
comments